Complaint Procedure
Making a complaint
If you're worried about your child at school or you have a complaint about the school, the direcftor or your child's class teacher (or tutor) is the best person to approach first for an informal discussion.
If your complaint is about a staff member (excluding the principal), you should contact the school principal.
Complaints regarding the principal should be directed to management authority of the school.
Contacting your child's teacher or school principal
They will usually be in the classroom during the day, but you can leave a message with the school office asking the teacher/principal to contact you.
If you are unhappy with the response
If the teacher can't help, or if you are not satisfied with their response, you can talk to the principal of the school or the Centre Manager. You should be able to arrange a meeting or a telephone conversation through the school's office.
If you are unhappy with how the problem was resolved
If you can't resolve a problem informally, the school should have a formal complaints procedure that you can follow. This procedure should lay out what you may have to do and how long it should take the school to deal with your complaint.
Typically, if having spoken with the school director, you are still not happy that your complaint has been resolved you may contact the Ombudsman for Children Act 2002, the Office of the Ombudsman for Children provides an independent and impartial complaint handling service. Under section 9 of the Act, the Ombudsman for Children can investigate complaints relating to the administrative actions of a school recognised by the Department of Education provided the complainant has firstly and fully followed the school's complaints procedures. The key criterion for any intervention by the Ombudsman for Children is that the action complained of has or may have adversely affected the child.
More information about the Ombudsman for Children can be obtained on www.oco.ie or by contacting them at:
· Email: oco@oco.ie
· Address: Ombudsman for Children's Office, Millennium House, 52-56 Great Strand Street, Dublin 1
· Phone: 01 865 6800
· Free-phone: 1800 20 20 4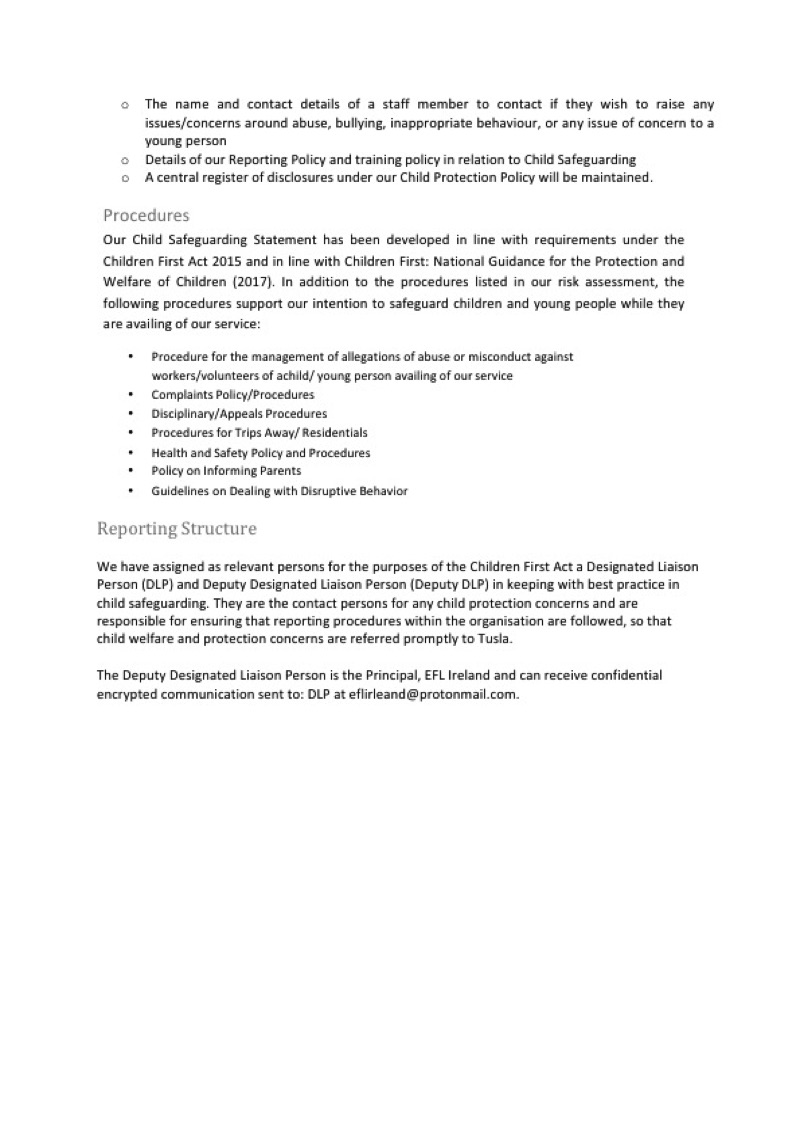 Waterford's Best Value Home-stay and Residential Summer English Courses.
Study English in Ireland's Ancient East this summer:
High-quality / high-value English courses in Waterford.
EFL Ireland, Junior & Adult English Summer Courses,
Mobile / WhatsApp: (+353) 87 281 2010
eflireland@gmail.com
EFL Ireland: English Language Courses in Ireland,
# 469, Waterford Mails Centre, Waterford City,
Co. Waterford, Ireland, X91 TD68.
→ Enjoy an Unforgettable Language Learning Experience in Irreland. ←
→ Sommerferien SchülerSprachreisen Irland ←
→ Curso de Inglés para Adolescentes Irlanda←