EFL Ireland specializes in Host-home and Residential English language summer-camp courses for adolescent teenagers. We also offer One Term and Academic Year courses at secondary schools throughout Waterford. These courses allow students to fully immerse themselves in an Irish High School attending all classes while fully integrated with an Irish host family.
Our students will enjoy Ireland's beautiful southern coast and the Waterford countryside and visit many interesting cultural and national historical sites in Dublin, Cork, Waterford, Wexford, Kilkenny and Tipperary. We also offer Splashworld Swimming amd Surfing in Tramore, The Great Escape Countdown, and our one-of-a-kind Drama Challenge Karaoke Showcase and Rollar-Disco.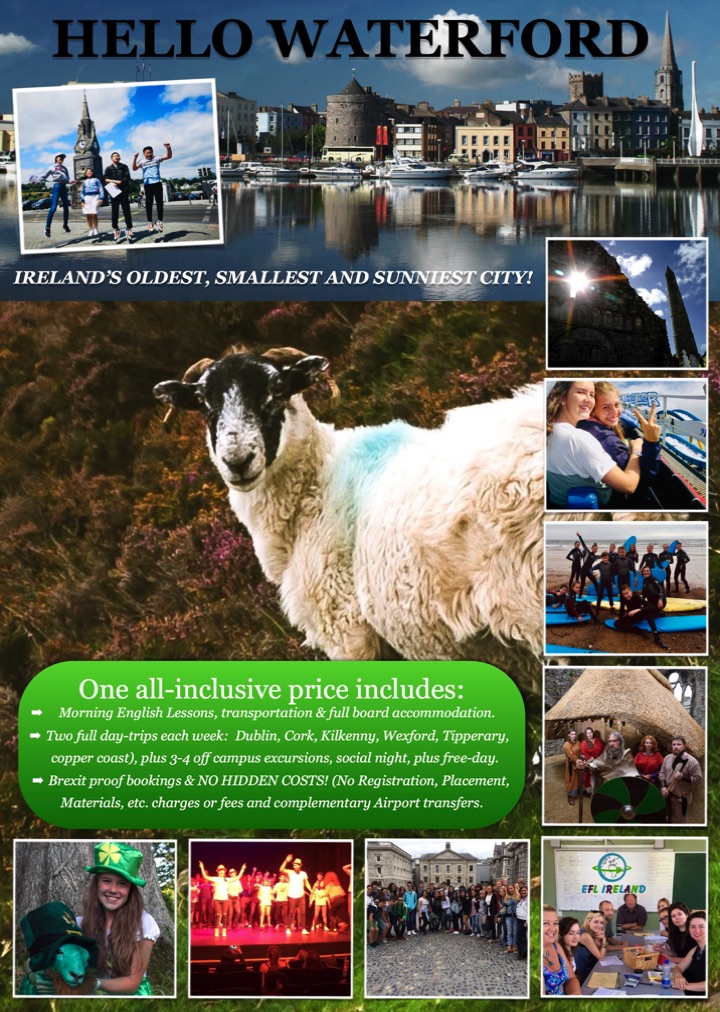 Waterford's Best Value Home-stay and Residential Summer English Courses.
Study English in Ireland's Ancient East this summer:
High-quality / high-value English courses in Waterford.
EFL Ireland, Junior & Adult English Summer Courses,
(+353) 87 281 2010 / 51 347 483.
eflireland@gmail.com
EFL Ireland: English Language Courses in Ireland,
# 469, Waterford Mails Centre, Waterford City,
Co. Waterford, Ireland.
→ Experience an Unforgettable Language Learning Experience. ←
EFL Ireland provides CLIL focused (Content Language Integrated Learning) English language courses. Developing skills for international communication is our primary focus.